Family cycling holidays in the Charentes and the Marais Poitevin
A couple wanted a cycling holiday with their fifteen-year old son. EAV put together an eight-day package totally personalised for this family with a balance of nature, ocean and vines.
Here's how it could work....
THE TELEPHONE APPOINTMENT
As previously decided, Thibaut phoned us at the arranged time and for a good half an hour we discussed the possible programme. This exchange of his questions and our wishes was extremely constructive.
We decided on the region of les Charentes and le Marais Poitevin, an area we had been meaning to visit for a long time.
We imagined leaving at the beginning of July for eight days and cycling something in the order of 30 miles a day bearing in mind that the routes should be relatively flat.
We asked EAV to provide us with a balanced package of the countryside, the ocean and places of interest to visit.
Thibault presented us with a circuit which revealed the different facets of the region and also included various activities and visits which would appeal to our son.
For accomadation we asked for chambres d'hôtes, (Guest houses - a sort of good quality B&B) of three star quality and only one room, assuming our son would be sleeping with us.
We chose to eat in town most evenings except for once or twice where we would eat at the Guest House.
The reservation
The following week we received the description with the quote by e-mail. This was in line with our conversation, and after having checked two details by email, we approved the estimate and paid the deposit... and it was off for the holidays!
the preparations
Two weeks before departure, we received all the useful elements for our trip by e-mail and post: the highlighted map and its protective cover, a smartphone holder, a very complete travel notebook and even three waterproof covers with the Evasion à vélo logo to protect our bikes in case of rain. An another useful element: a link received by e-mail allowed us to have the route on our smartphones.
How it went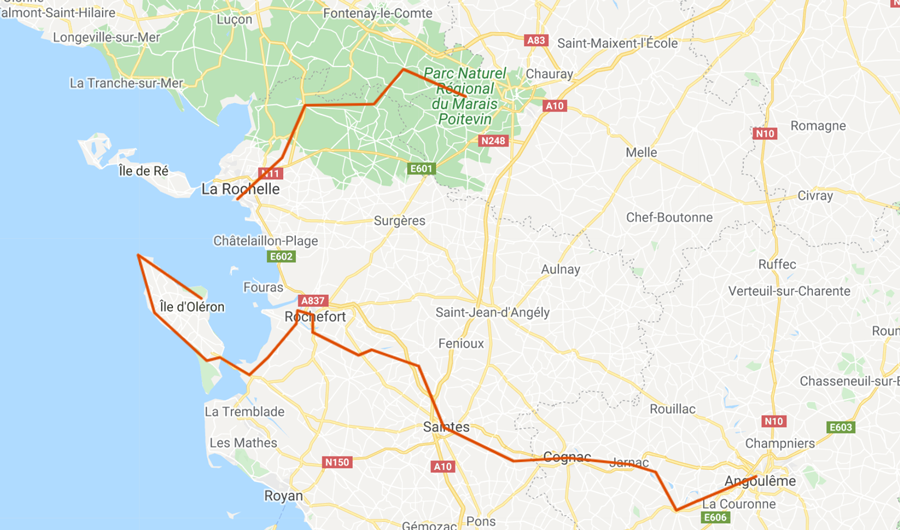 Day 1
We arrived in Coulon at the beginning of the afternoon giving us the chance to walk around a little and take a first look at the marais (marshes) before going to our guest house to freshen up in their swimming pool. As arranged, we were able to leave our car there for the week.
The bicycles arrived at the end of the afternoon and for dinner we cycled into the village.
Day 2 25 miles 300 feet + (1)
We started our ride at a leisurely pace. We reached Maillezais with its old abbey and so to its pier for embarkment.
A very pleasant two hours spent on the river in a small boat and then on our bikes again to La Ronde where we could take advantage of the Guest House swimming pool and an open-air cooking and dining area for a restful meal.
(1) this being the total elevation differences experienced during the day
Day 3 28 miles 300 feet +
We spent another morning exploring the marais until we reached Marans and then onto La Rochelle for the afternoon.
A long walk in town, an obligatory visit to the reknown aquarium and then some shopping and finally dinner in a relaxing and quiet restaurant recommended to us by our host.
Day 4 30 miles 360 feet +
Nous prenons le bateau pour Boyardville et découvrons ainsi l'île d'Oléron. Au gré des pistes cyclables, nous visitons le phare de Chassiron, lézardons sur les plages et nous baladons dans Saint-Pierre et La Cotinière où se trouve notre chambre d'hôtes.
Au final, nous nous laissons tenter par la table d'hôtes dans une belle ambiance autour d'un repas de grande qualité.
We took the boat to Boyardville and so discovered l'Ile d' Oleron (an island). Using the cycle paths we visited the Chassiron lighthouse, lazed on the beaches and wandered around Saint-Pierre and La Continière where we located our guest house.
In the evening, in a most friendly atmosphere we were treated, by our hosts, to an excellent meal.
Day 5 33 miles 500 feet +
Nous continuons notre tour de l'île puis passons par Marennes et le joli village de Brouage pour atteindre Rochefort. Notre fils est sous le charme de l'Hermione et très intéressé par la Corderie Royale.
We continued our tour of the island and then back on the mainland, passing through Marennes and the pretty village of Brouage before reaching Rochefort. Our son was fascinated by the boat l'Hermione – a modern-day replica of the 32 gun ,18th century , French frigate and also very interested in the museum complex in the Corderie Royale.
Day 6 35 miles 850 feet +
After having admired the abbey at Trizay and grounds where we participated in a family treasure hunt we re-joined the banks of the river Charente in order to reach Saintes but not before a detour to visit the chateau Roche-Courbon.
A very agreeable walk around town and then dinner and the night in a very pleasant Guest House.
Day 7 35 miles 530 feet +
Leaving Saintes the route agreeably followed the Charente: an interesting stop at the town of Cognac followed by a visit to a Cognac distillery in Jarnac.
Our last night was spent in Bassac near its beautiful Abbey.
Day 8 28 miles 1050 feet +
Snaking our way along the Charente on pretty country lanes we reached Angoulême. We had enough time to explore the town before catching the train for Niort.
A partner of EAV's took possession of our bikes and a van forwarded our luggage for us to Niort. At Niort we took a taxi back to our car.
And there we were – holiday finished already.

PRICES AND SERVICES FOR THIS BIKE TRIP
This family adventure allowed us to discover les Charentes and le Marais Poitevin. A perfect marriage of land and sea.
Price : € 890/adult and € 580/child
Accommodation 7 nights in triple room: guesthouse three star quality
Breakfasts
Dinner (excluding drinks) on day 6
Baggage transfer
Transfer by boat from La Rochelle to Boyardville
Travel kit:

IGN map highlighted
detailed travel journal
circuit available on smartphone app.
3 saddle cover

Two adult bikes and one child bike with accessories (bags, helmet, repair equipment, pump)