A couple cycling holiday in the Alpilles and Lubéron
A couple in their thirties would like to explore the Alpilles and the Luberon by bike. Evasion à vélo built a tailor-made 6-day trip to include vineyards, historical monuments and perched villages.
Here's how it could work...
THE TELEPHONE APPOINTMENT
In accordance with our on-line request for an appointment, Thibaut called us and we built our trip together in little over half an hour. The communication proved to be well balanced between the right questions asked and the expression of our desires and technical capacities.
We decided to leave at the end of May for a period of 6 days, with stages of around 50 km/day depending on the type of terrain: more or less hilly.
We asked Evasion à vélo to focus our tour around two themes, historical monuments and gastronomy.
Thibaut advised a loop tour to allow us to explore the Alpilles and Lubéron at our own pace.
For the accommodation, we wanted guesthouses or charming hotels with a good level of comfort.
For dinner, as we appreciate local products, we favoured the quality and atmosphere of guesthouse food while also wishing to be able to dine outside following the recommendations of Évasion à vélo, just to vary the taste experience. As a bonus, we opted for a gourmet dinner at the end of the tour.
THE RESERVATION
The following week, we received the description and the price by e-mail. This fitted our conversation exchange and after having got clarification on the gourmet restaurant, we validated the estimate and paid the deposit... and that was it!
THE PREPARATIONS
10 days before departure, we received all the useful elements for our trip by e-mail and by post: the highlighted map and its protective cover, a support for smartphone, a very complete travel journal and even two Evasion à vélo saddle covers to protect our bikes from the rain... although rain is rare in the Lubéron or the Alpilles! A link received by e-mail enabled us to have the route on our smartphone to complete the map.
HOW IT WENT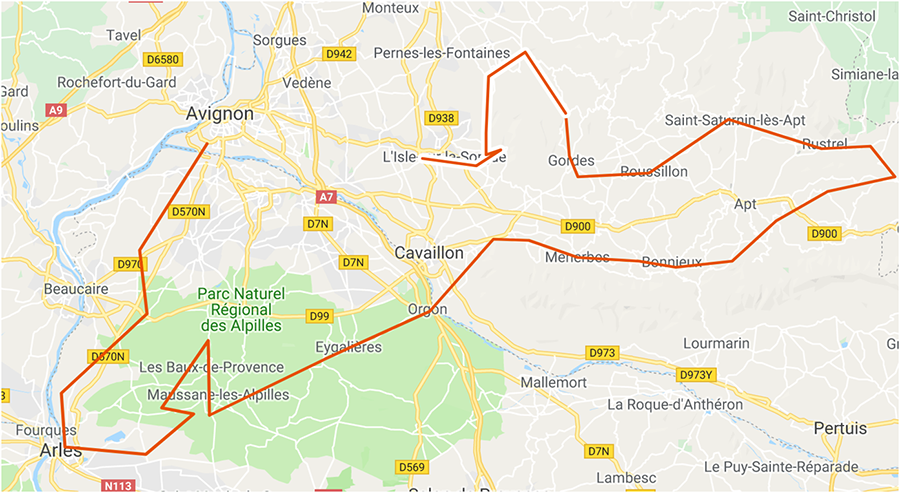 Day 1 45 km 160 m + (1)
We arrived in Avignon in the late morning and went directly to the rental company located a stone's throw away to pick up our bikes and leave our luggage.
After a quick meal, we reached Barbentane, a pretty medieval village with its splendid Renaissance castle, then Saint-Michel de Frigolet Abbey, nestled in the heart of the Montagnette forest. After admiring the Saint-Gabriel tower, we arrived in Arles by small quiet roads.
We spent the night in a charming hotel with a spa and discovered a great restaurant address given by Évasion à vélo. Before that, we visited the city in an original way, by taco bike (this time we were not pedaling!)
(1) This is the sum of the elevations of all the climbs of the course
Day 2 42 km 500 m +
We enjoyed Arles throughout the early morning then moved on to see the mill of Daudet, the castle of Montauban and the small village of Le Paradou. We then reached the unmissable and extraordinary villages of Baux-de-Provence and Saint-Rémy-de-Provence.
We stayed in Maussane in a charming hotel with a beautiful swimming pool and had dinner on site. In the village, we also discovered several producers of local products and did not resist making some purchases from them, which we stowed in a taxi with our luggage (!).
Day 3 46 km 550 m +
We had a lovely trip to Eygalières then crossed the Durance to discover the Lubéron, Taillades, Robion, Maubec and the 1st of its high-perched villages, Oppède le Vieux.
We dined and overnighted in Oppède in a guesthouse with a swimming pool and a high quality table d'hôtes.
Day 4 39 km 880 m +
We explored Ménerbes, Lacoste and Bonnieux, well worth it by bike! By a very beautiful small road, we reached Saigon then went up to Caseneuve. The landscape was very wild: it was dazzling!
We stayed in the village in a beautiful guesthouse equipped with a swimming pool and a gourmet-standard table d'hôtes.
Day 5 51 km 510 m +
We crossed Viens, a pretty high-perched village, then Gignac and its castle, and soon after, the extraordinary ochre cliffs of Colorado Provençal de Rustrel. After Saint-Saturnin-lès-Apt, more ochre cliffs (you can't get enough of them!) in Roussillon.
We slept in a cosy guesthouse with a swimming pool and had dinner at the village bistro.
Day 6 49 km 830 m +
The last day of cycling but not the least! The route was sumptuous with Gordes as a starter and then the very beautiful abbey of Sénanque, nestled in the forest.
We then went up to Venasque, a very beautiful high- perched village, then we crossed Saumane-de-Vaucluse by pretty little roads and finally came to the charming Fontaine-de-Vaucluse.
At the end of our trip, at Isle-sur-la-Sorgue, we relaxed in the swimming pool of our guesthouse before going to the Michelin-starred restaurant reserved by Evasion à vélo.
Day 7
After a morning stroll in Isle-sur-la-Sorgue we went to Avignon station by taxi, which also took care of leaving the bicycles back at the rental company.

PRICES AND SERVICES FOR THIS BIKE TRIP
The duration of this trip allows you to discover the "must sees" of the Alpilles and Luberon, even if the choice of a shorter trip would also allow you to focus on a theme or a more targeted section of the region... and to come back later!
Price (excluding equipment rental): 950 €/person
Accommodation 6 nights in a double room: superior 3* hotel or very comfortable guesthouse
Breakfasts
Dinners on days 2 (excluding drinks), 3 and 4
The visit of Arles by Taco bike
Baggage transfer
Travel kit:

IGN map highlighted
detailed travel journal
circuit available on smartphone app.

2 saddle cover
Equipment rental price: €100 /bike
Top-of-the-range models
With accessories (bags, helmet, repair equipment, pump)