Bike trip with friends in the Paris region : the bends of the Seine
Two couples of friends with varying sports levels are dreaming of escaping from Paris by bike for 3 days. Évasion à vélo has built a stay suited to their rhythm and allowing them to recharge their batteries by alternating wellness activities and artistic itineraries.
Here's how it could work....
The telephone appointment
As planned, Thibaut called us via a simultaneous WhatsApp call and we built our circuit together in 25 minutes. He asked us the right questions while letting us express our wishes.
We chose a 3-day escapade in August to explore the bends of the Seine between Mantes-la-Jolie and Rouen with stages of around 40-50 km per day. To manage the few slopes easily and ride even more coolly, we opted for an electrically-assisted bike. It was also agreed that Evasion à vélo would take care of the car transfer from our hotel in Paris and on our return from Rouen.
We asked Evasion à vélo to design our itinerary as an artistic visit, also including the must-see castles and monuments.
Thibaut recommended an online tour to make the most of the landscapes and our themes.
For the accommodation, we wanted luxury services in charming hotels and with delightful dinners.
We finalized the creation of our tour by including some specific options: a private cruise on the Seine and a massage.
The reservation
The following week, we received an email outlining the description and the quote. This was in line with our telephone conversation, and, after asking for confirmation on what was included in the price, we approved the quote and paid the deposit.
The preparations
Two weeks before departure, we received all the useful elements for our trip by e-mail and post: the highlighted map and its protective cover, a smartphone holder, a very complete travel notebook and even four Evasion à vélo waterproof covers to protect our bikes in case of rain, even if in principle we would not need them in August! A link sent by e-mail also enabled us to have the route on our smartphones to complete the map.
HOW IT WENT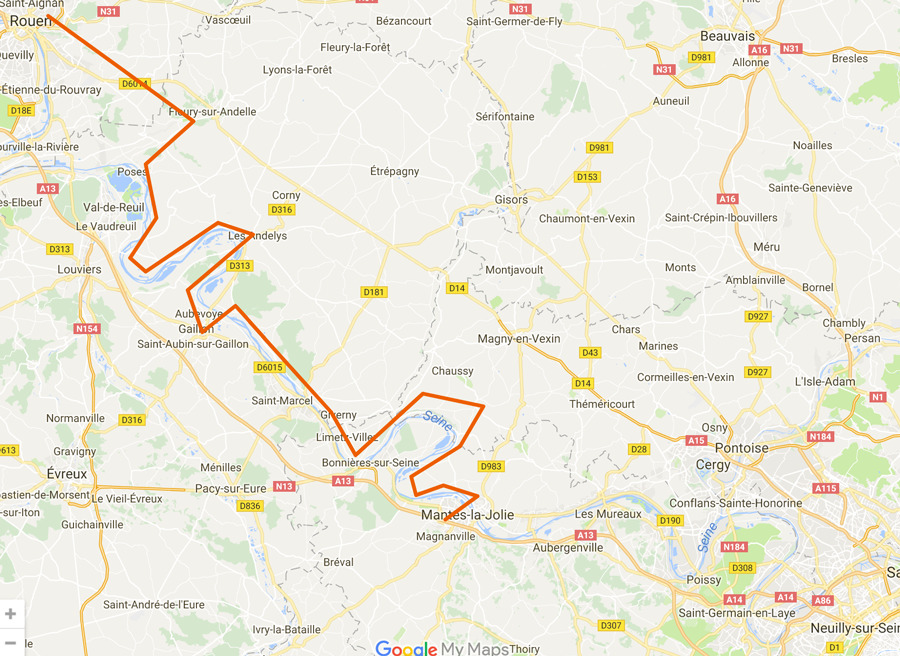 Day 1 40 km 330 m + (1)
The car came to pick us up at our Parisian hotel in the early morning and we had a little walk around Mantes-la-Jolie while waiting for the bikes to be delivered.
And off we went, to explore the first bend of the Seine! After Vétheuil and an enjoyable climb, we had a magnificent panoramic view from a small overhanging road. The followed the descent to La Roche-Guyon and its castle.
We reached Giverny a little later and spent the rest of the afternoon in the gardens of Monet, the Impressionist Museum, finishing with a stroll in the village and its art galleries.
We had a superb stopover in a small luxurious hotel and its -starred restaurant.
(1) This is the sum of the elevations of all the climbs of the route
Day 2 57 km 370 m +
Shortly after departure, we made a quick detour to Vernon, a pretty little-known town. Then we followed the Seine until we reached Gaillon and its beautiful castle.
A beautiful road with magnificent views led us to Château-Gaillard and the Andelys. We again strolled through the art galleries and visited the Collegiate Church of Notre-Dame.
One bend further on (!) we reached our hotel, just as sumptuous as that of Giverny. Before having an excellent dinner, we enjoyed the pool and a relaxing massage.
Day 3 40 km 390 m +
We started the day with a private cruise, which showed us a different perspective of the Seine .
After a few more kilometers on our bikes, we climbed the Côte des Deux-Amants to enjoy an extraordinary view. We then went on to Radepont and its abbey before reaching Rouen by small roads.
We then had plenty of time to stroll around this beautiful city before the car took us back to our Parisian hotel.

Prices and services for this bike trip
This escapade along the Seine allows you to experience not only very beautiful landscapes and panoramas but also some artistic and historical jewels.
Price (excluding equipment rental): €670 /person
Accommodation 2 nights in a double room in a 4* hotel
Breakfasts
Dinners (tasting menus, excluding drinks) on days 1 and 2
Baggage transfer
Private cruise on the Seine
Transfer by car from Paris to Mantes-la-Jolie on day 1 and back from Rouen to Paris on day 3
Travel kit:

IGN map highlighted
detailed travel journal
circuit available on smartphone app.
luggage tags

4 saddle cover
Equipment rental price: 150 €/electric bike
Top-of-the-range models
With accessories (bags, helmet, repair equipment, pump)
Drop-off in Mantes-la-Jolie and pick up in Rouen